Episode 72- Cynthia Thurlow Outlines 45 Days of Intermittent Fasting Transformation for Women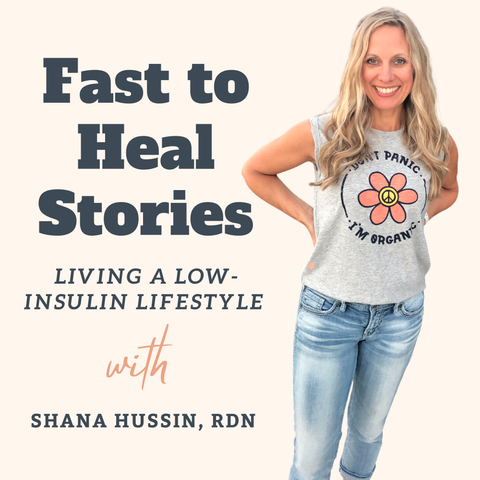 5 de abril de 2022 • 1h 7min
Ouvir episódio
Cynthia Thurlow is a nurse practitioner, intermittent fasting and nutrition expert, and a two-time TEDx speaker. She leads numerous specialty fasting programs, and has been featured on many well-known podcasts. She just launched her new book, Intermittent Fasting Transformation: IF45, in March 2022!
Cynthia and I talk all about her new book, including why her protocol is 45 days and why women need to approach fasting differently than men. We also debunk the very prevalent myth that women shouldn't fast, address questions from vegetarians, and give tips for families working toward better nutrition.
You can find Cynthia's new book, Intermittent Fasting Transformation on Amazon, Barnes and Noble, Target, and book stores.
Find more about Cynthia:
Website: https://cynthiathurlow.com/
Instagram: www.instagram.com/cynthia_thurlow
LinkedIn: https://www.linkedin.com/in/cynthia-thurlow-50395a9/
Facebook: https://www.facebook.com/CHTWellness/
Twitter: https://twitter.com/_cynthiathurlow
YouTube: https://www.youtube.com/cynthiathurlow
Other Links Mentioned:
GRAB YOUR COPY of the Fast To Heal Recipe book with 85 low-carb, whole food recipes that are simple to prepare!
GET YOUR FREE STARTING GUIDES that will set you well on your way toward a low-carb lifestyle of timed eating!
SCHEDULE A PERSONALIZED SESSION if you are stuck in a rut, or suffer from a stubborn case of obesity, Type 2 diabetes, or metabolic illness.
JUMPSTART your fasting and low-carb protocol by enrolling in my 10-Day Hormone Healing Jumpstart!
Enroll in Finding Nutritional PEACE, and choose the option of LIVE group coaching, or online course content only with an optional personalized session.